Alongside its historical significance as a station on the southern Silk Road, the city of Tengchong in Yunnan Province has, in recent times, frequently drawn upon the natural qualities of a region that, given its position amongst the foothills of the Himalayas, enjoys a unique flora with many rare endemic plants. In addition to this, the region is also home to numerous dormant volcanos, geysers, and thermal and sulphur springs, which have led to a commitment to a more gentle form of tourist utilization.
Primarily the design for the Tengchong Observation Tower is a solid timber construction and can be erected quickly on site as a prefabricated system.The global structure is defined by a rhomboidal prism extending from the ground, whereby the structure comprises a system of laced vertical, diagonal & horizontal timber structural elements. Vertical load transfer is provided via the primary vertical timber columns, situated in the corners.

Additional vertical column elements provide vertical load transfer for the inner staircase as well as platforms. Lateral stability is achieved through a regular and continuous diagrid frame that wraps around the outer tower geometry.
In areas of higher loading or in areas of load concentration, the timber elements are layered, thickened and strengthened to increase the local capacity of the structure necessary to transfer the increased forces. Longer timber elements are designed as Glue Laminated Timber beams. Additional diagonal and horizontal bracing elements follow the geometry of the stairs and contribute to the lateral stability of the tower. The structural design is inherently flexible and could be adapted for a 50m tall as well as 100m tall version of the tower.
Address
Tengchong
Province Yunnan
China
Study
12/2019
Height
99 m
Project team
Diogo Teixeira, Jurgis Gecys, Ernesto M. Mulch, Tom Peter-Hindelang, Ezgi Özkan
CONSULTANTS
Coordination
Yiju Ding
Structural Engineering
Bollinger+Grohmann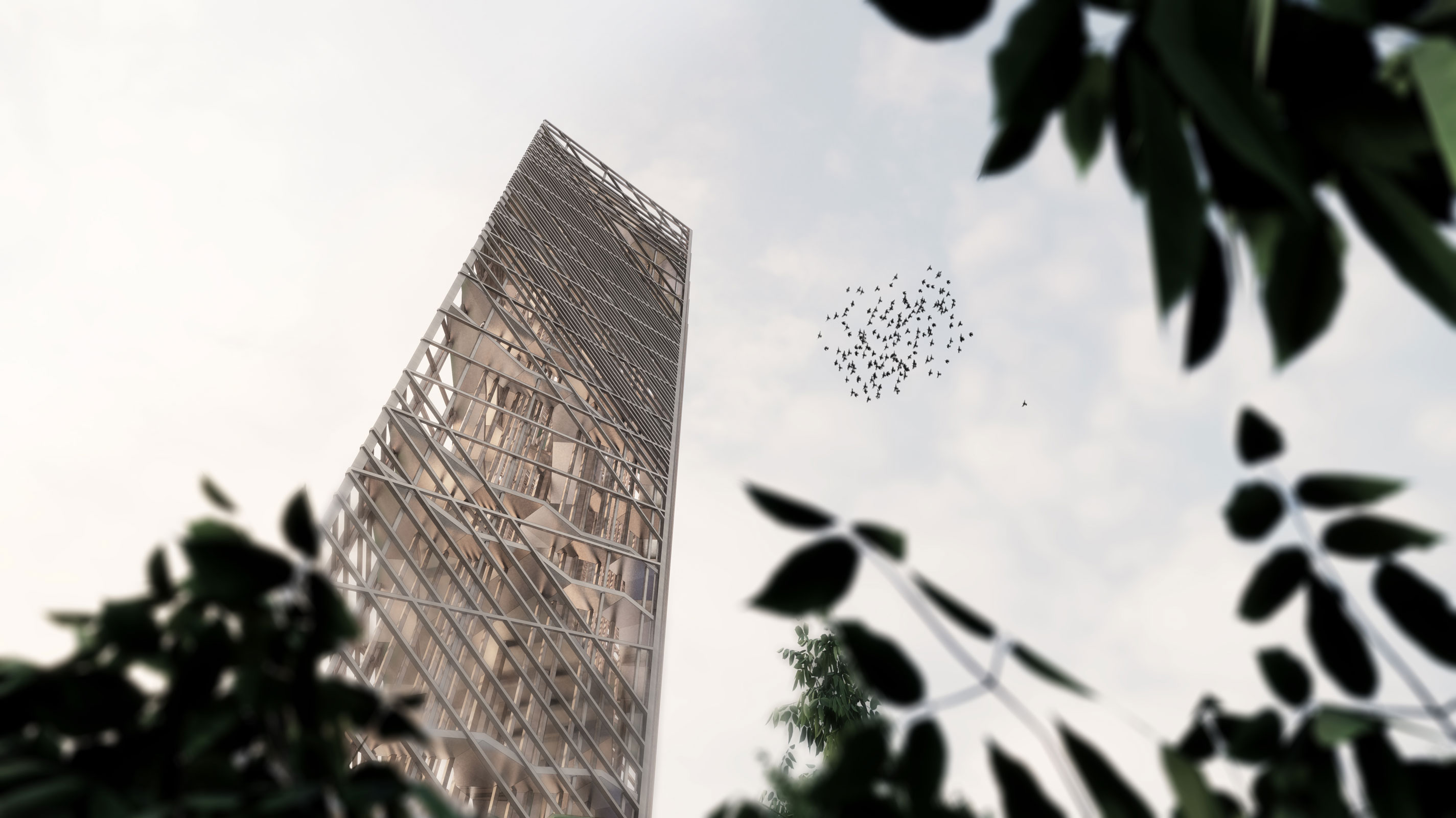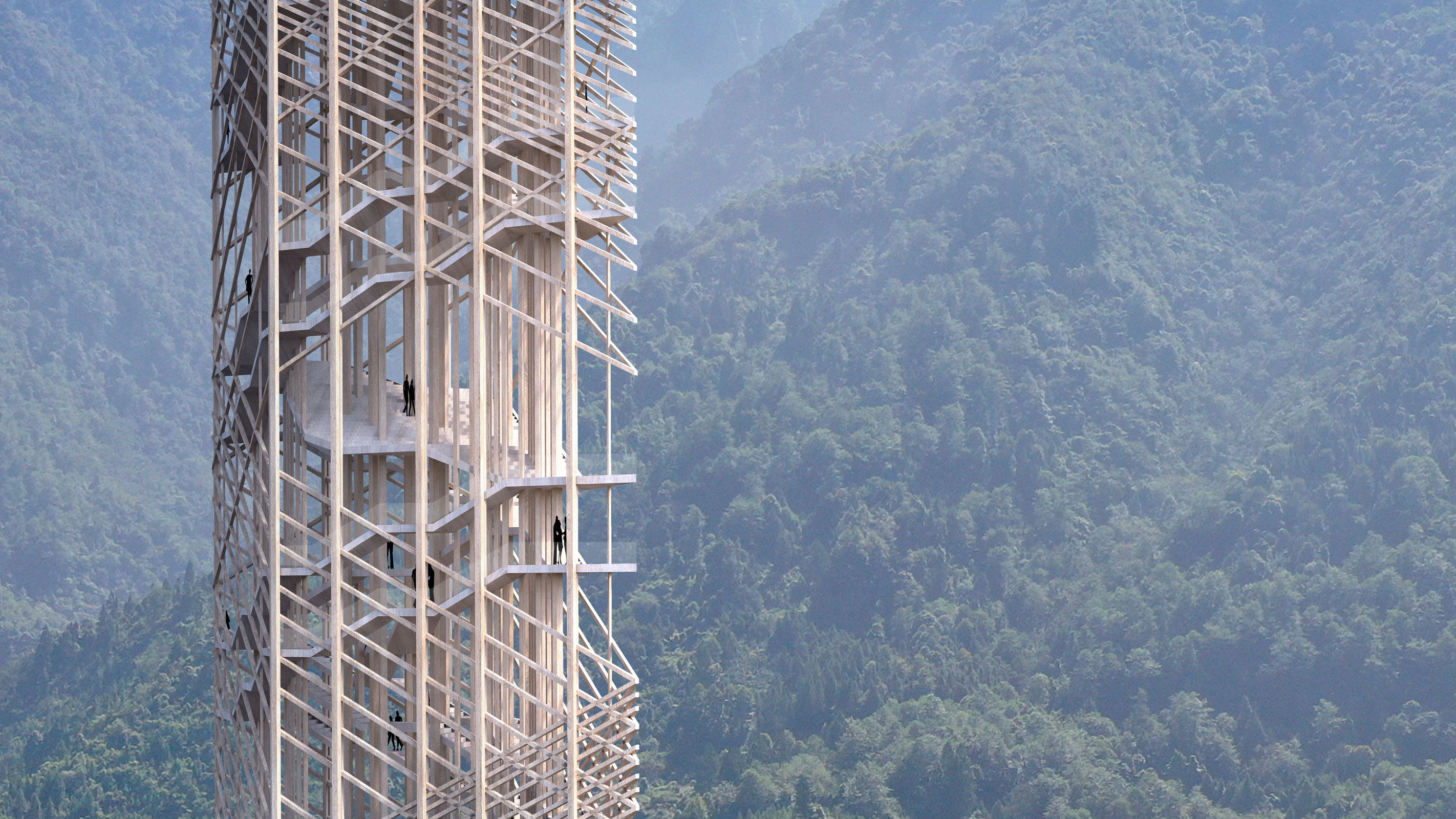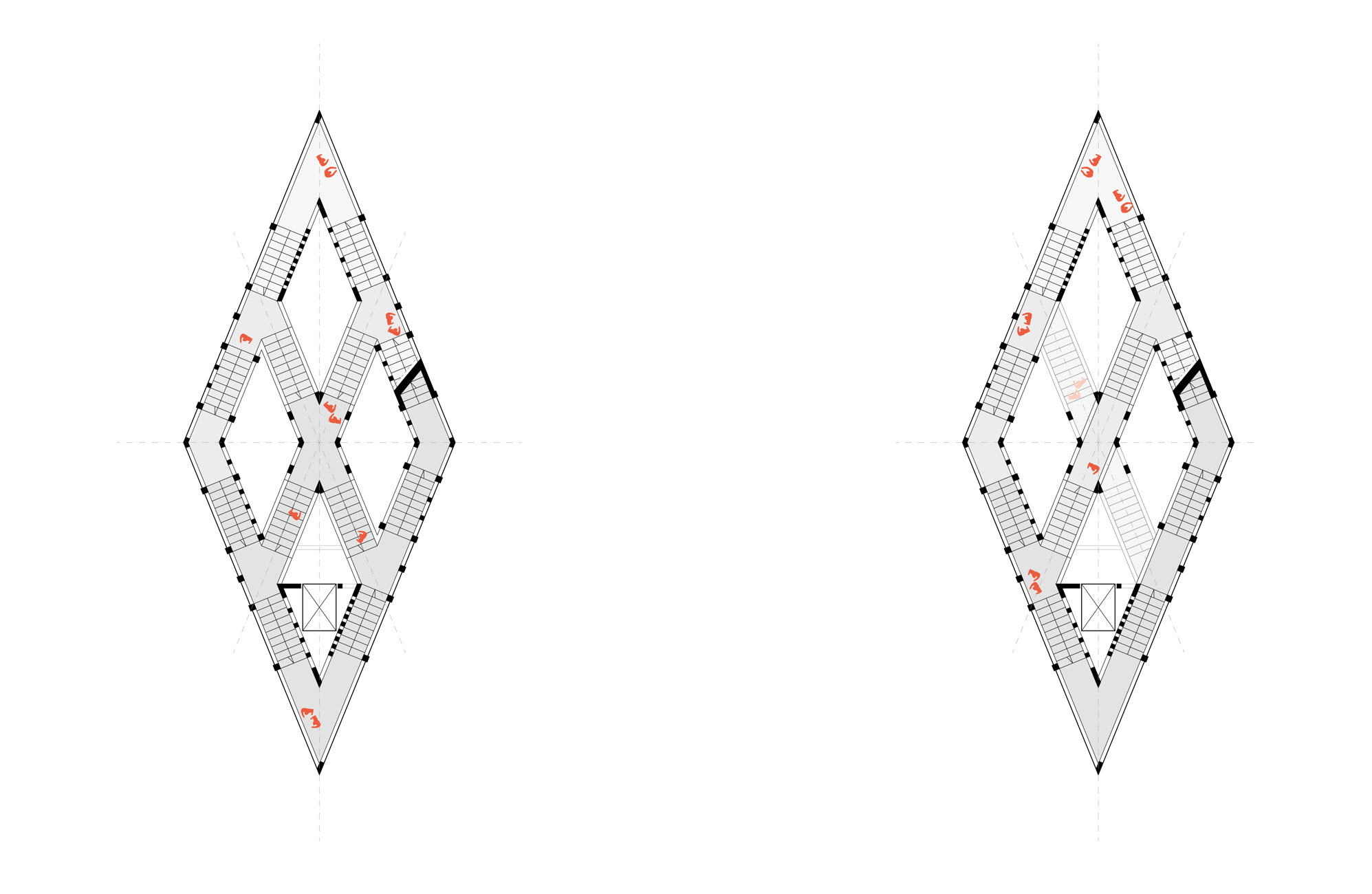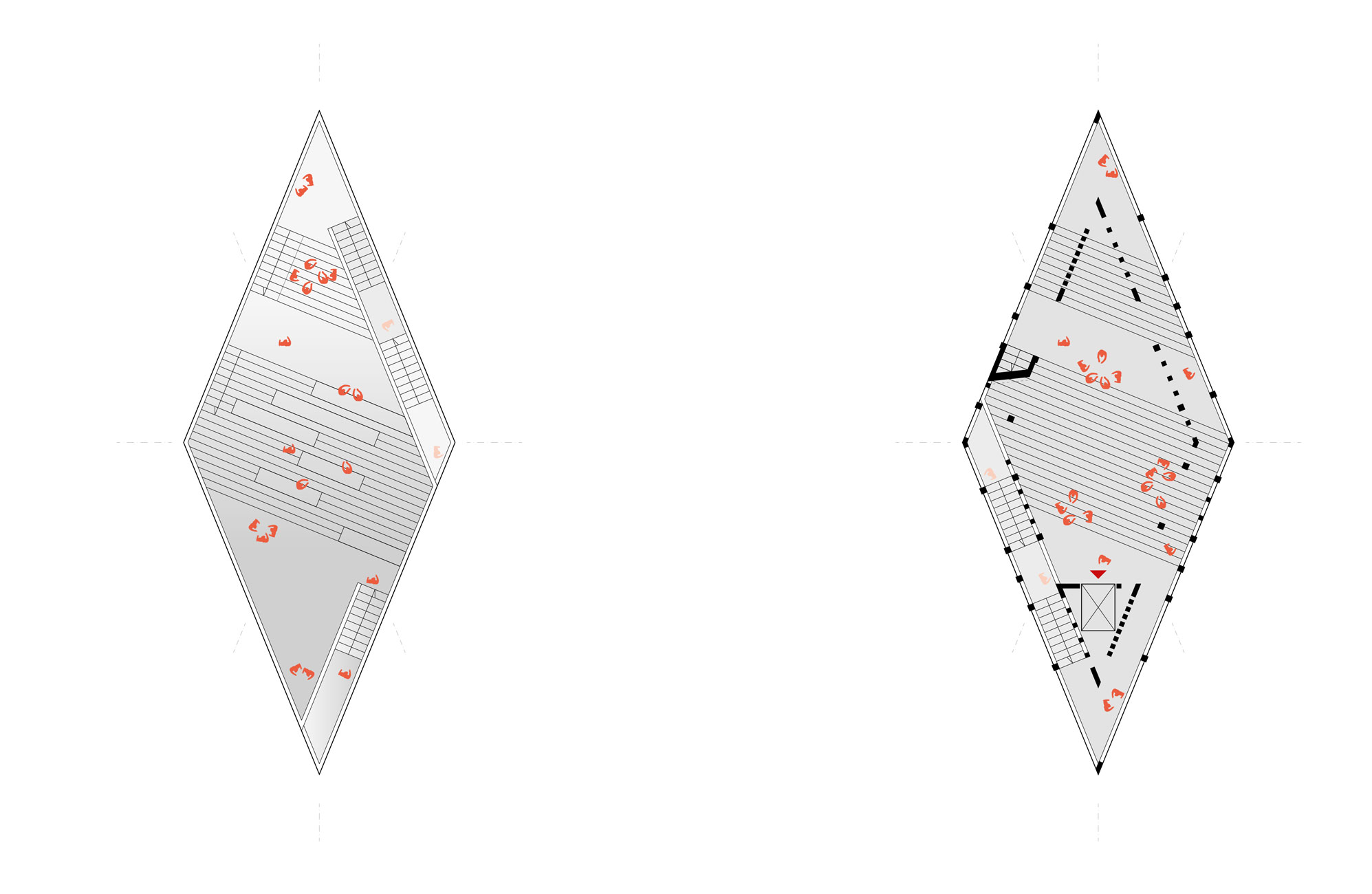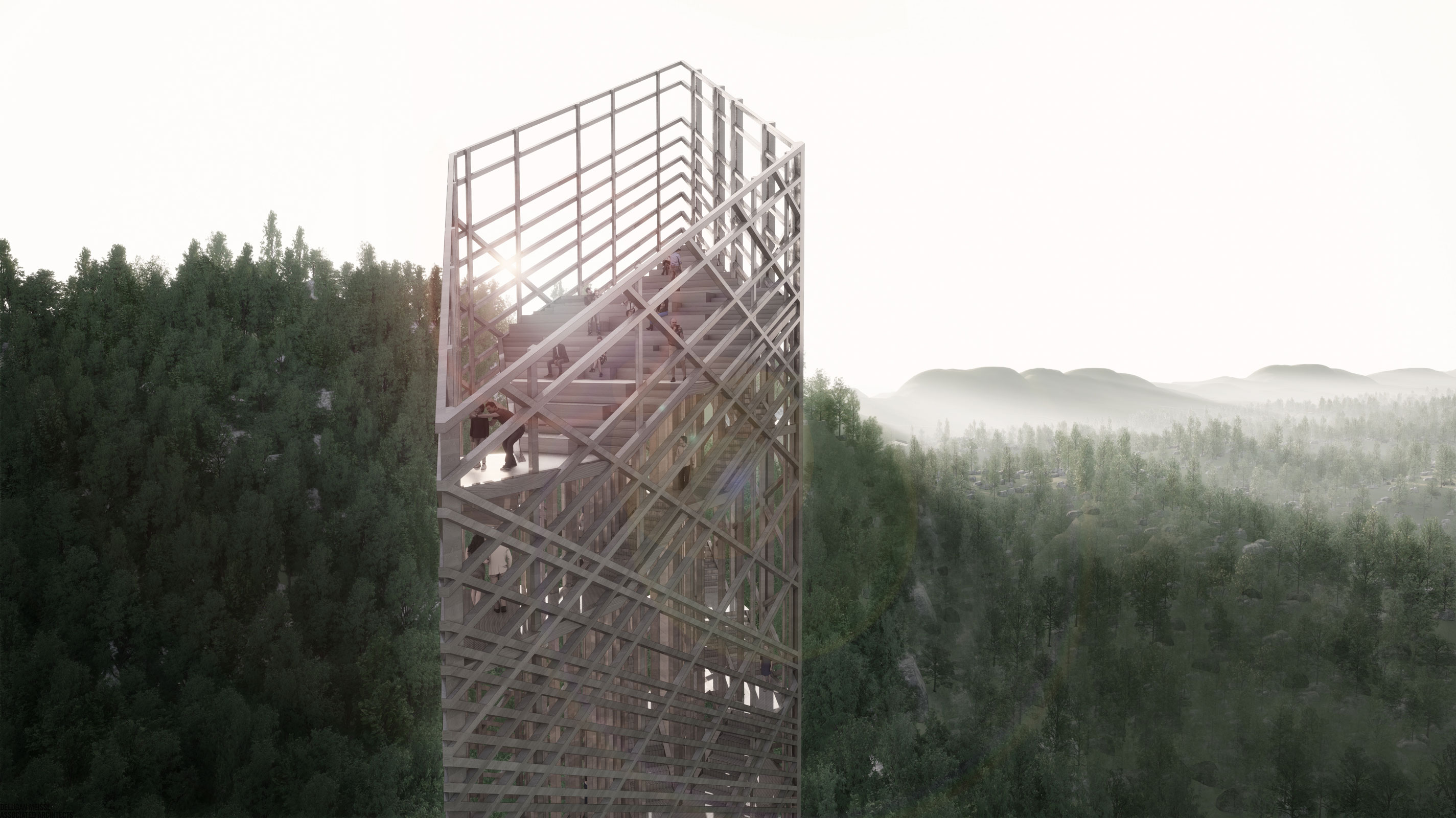 Structural Design Concept