Deschamps-Braly Clinic of Plastic & Craniofacial Surgery

USA
Doctor Jordan Deschamps-Braly, a young yet highly respected craniofacial surgeon, contacted DMAA in 2016 to discuss his dream of creating a new facility in the heart of San Francisco. He visited Vienna to present his extraordinary work, and project ideas immediately began to flow. It soon became clear that the design should reflect Deschamps-Braly's meticulous, microscopic surgical technique.
Central to the concept is a system of linear timber elements – lamellas – that cover the floor, walls, and ceiling. These define the main axis from the front door to the end of the hall while transverse lines in the floor mark the entrance to each office and the ceiling lamellas turn downwards to provide a filter to the glazed interior walls. This allows light to penetrate deep into the hall while offering patients the privacy that they expect in such an environment. With their various directions, layers, and spatial planes, these lamellas create the effect of a protective cocoon.
The human body, from the organs and bones to the muscles and skin, is a series of incredibly complex layered structures. The outer layer – the skin – interacts closely with the other elements to form a unique mechanism. And the skin is also a direct reflection of the soul, which means that it is essential that we pay attention to outer surfaces and materials. How do these interact with each other without neglecting the essence, the soul, of a project?
Careful consideration was given to the selection and the performance of the various elements and materials, which work together to create a sensitive and attractive space that has little to do with the classic notion of a sterile clinical environment. The contrasting combination of the warm and welcoming tones of the timber elements, the intimate dark shades of the natural stone flooring, and the acoustic fabric ceiling panels, achieves the perfect balance.
The complex craftsmanship was the responsibility of the Austrian carpentry experts Cserni. The floor panels of natural granite and inlaid timber within an aluminum frame are executed with a level of highly-demanding, quasi-surgical accuracy that reflects the millimetric precision of Jordan Deschamps-Braly's operations.
Address
360 Post Street, San Francisco, USA
Start of planning
04/2017
Start of construction
01/2019
Completion
07/2019
Floor area
200 m²
Construction volume
515 m³
Project manager
Diogo Teixeira
Project team
Toni Nachev
CONSULTANTS
Carpenter
Cserni Objekt GmbH
Photographer
Leandro Farina
Joe Fletcher Photography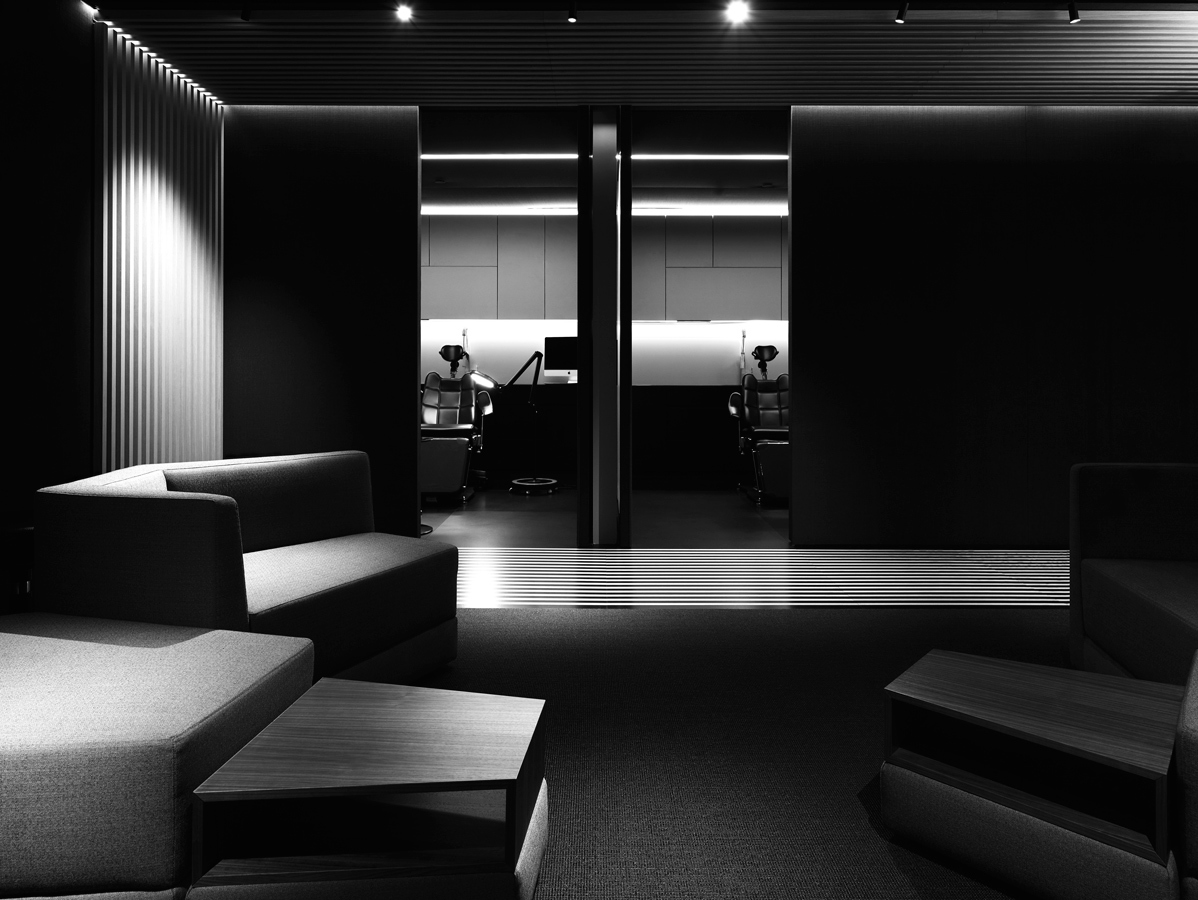 'It was very important to us to incorporate these central ideas of precision, authenticity, transparency and openness into the design'