Residential Greenhouse Bremen

Germany
The former Kellogg's site on the Überseeinsel in Bremen is currently being transformed into a completely new urban district. New quarters based on a combination of working, living, learning, leisure and green space are being created on the banks of the Weser.
The Neu-Stephani quarter is not only notable for its waterfront location, but will also be home to a range of residential typologies and companies with educational facilities as well as various open spaces. It is also the site of a very special housing project with a sophisticated energy concept: a residential greenhouse.
The building is divided into three principal components: a timber residential block, the superimposed greenhouse and the connecting access pergola.
The residential building is executed as a fully prefabricated, modular timber structure that is merely assembled on site. The residential units include standard modules of around 42m² (2 rooms) and 54 m² (3 rooms), studio apartments measuring 30m² and optimized family apartments with 85 m² (3 rooms plus office area). Depending upon how the modules are combined, the building can contain between 30 and 54 residential units.
Address
Quartier Neu-Stephani
Überseeinsel
28217 Bremen
Start of planning
2020
Gross surface area
5.065m²

Gross surface area
above ground
4.452 m²
Height
27,5 m
Number of levels
Souterrain + 7
Project manager
Eva Schrade
Project team
Magdalena Czech
Birgit Miksch
Klaudia Prikrill

Visualization
Toni Nachev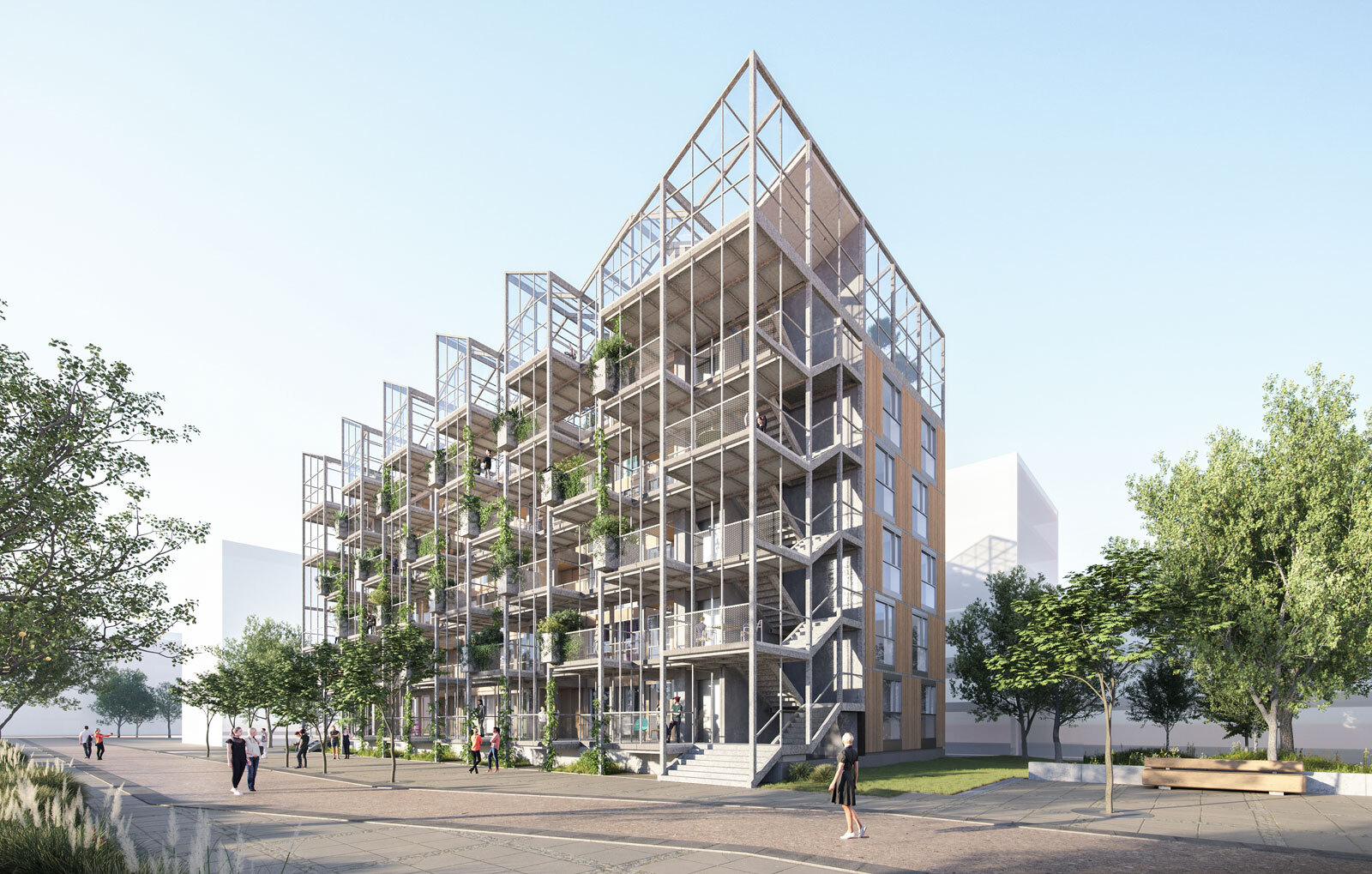 The building is divided into three principal components:
a timber residential block, the superimposed greenhouse and the connecting access pergola