The island of Rømø is located in the heart of the Wattenmeer National Park, just off the North Sea Coast. The National Park is not only Denmark's largest but also a UNESCO World Heritage Site and it enjoys a natural habitat of exceptional quality. This is only one of the reasons why the holiday island is such a successful tourist attraction: In addition to its unique natural landscape, it also has much to offer in the historical, cultural and economic fields.
In order to develop the island's potential the municipality of Tønder has a local development plan, which seeks to strengthen the links between nature and tourism and to create jobs by developing the connection with the port via both commercial and tourist uses. The architectural concept is based on this study as well as being strongly inspired by the unique landscape.
The design also reacts with great sensitivity to the surrounding buildings. These existing small-scale, raised structures are built from concrete and black timber. This typology was incorporated and further developed in the new development. The ground floors of these new buildings are also raised in order to offer the necessary flood protection. This approach also ensures that, rather than hiding the unique landscape under concrete, it is left almost untouched due to the use of point foundations. The result is an efficient interaction between the buildings and the natural landscape, which is simply allowed to flow on below them.
The layout of the project envisages the flexible combination of residential modules, whose size enables them to be adapted to a range of requirements. In addition to units for hotel use, there are also residential modules for the offshore workers, who work all-year-round in the wind parks of the North Sea. These units can also be used as holiday homes or combined to create larger apartments. The proposed realisation as prefabricated modules is easy to implement and the construction period on site can be significantly reduced.
The residential modules are arranged in a row to create single building complexes and are linked by a concrete block that contains the circulation core. The façade of these modules consists of a rhythmic sequence of transparent glass windows and opaque black timber that continues right around the building. The balconies and loggias that advance from this façade also extend back into the building as far as the circulation core. This enables the stairs to be naturally lit.
Despite a wide range of use requirements – hotel with visitor glasshouse and restaurant, holiday homes and apartments for offshore workers – the development retains its sense of scale: The volumes are staggered and arranged in such a way that generous external spaces are created. A holistic hotel, residential and holiday complex that is in harmony with nature.
Address
Hollænderstrædet
6792 Havneby
Rømø

Start of planning
2020
Gross floor area
12.200 m²
Site area
17.900 m²
Height
10,5 m

Number of levels
3
Project manager
Eva Schrade
Project team
Birgit Miksch
Visualization
Toni Nachev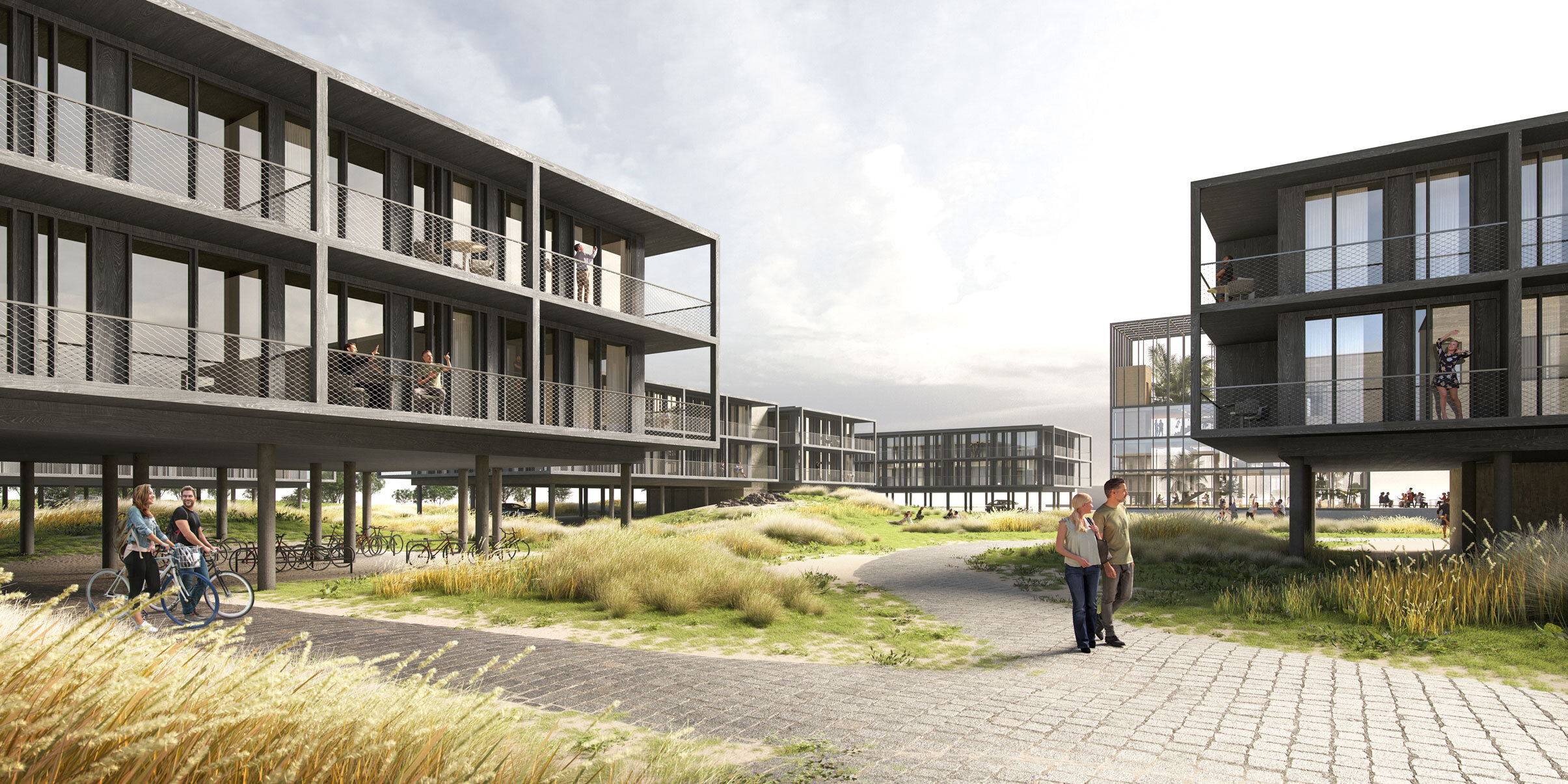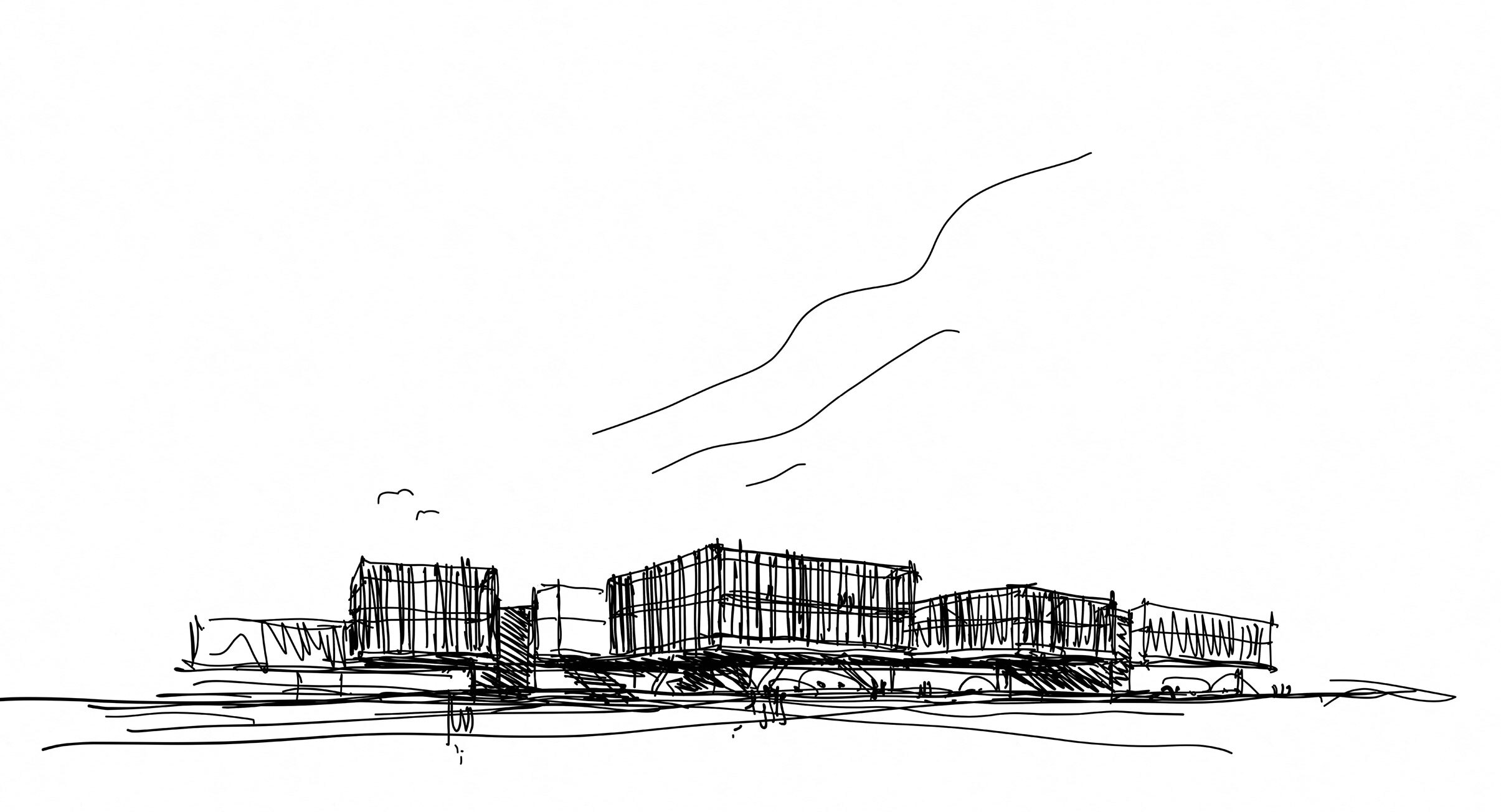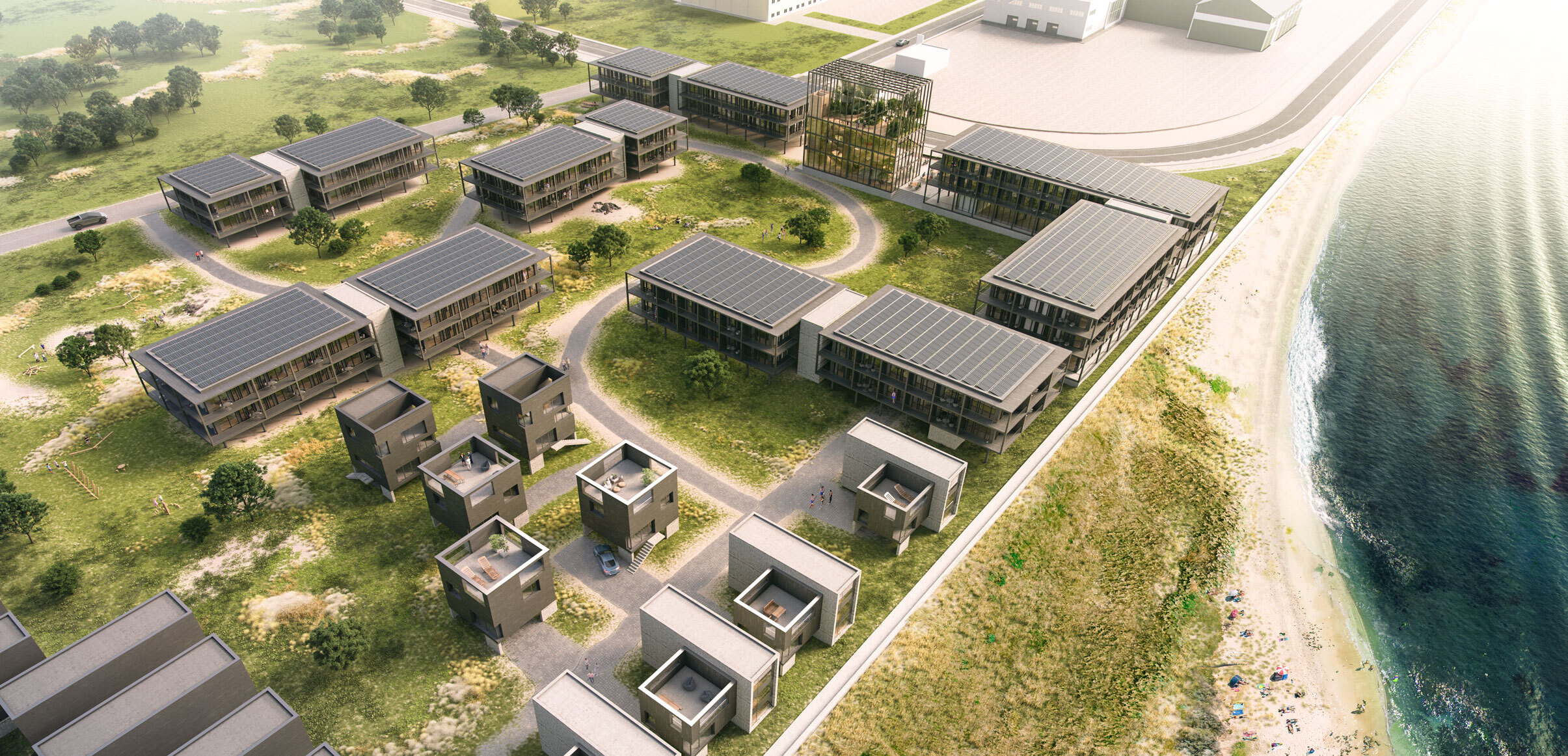 A holistic hotel, residential and holiday complex that is in harmony with nature