ZOOMING IN INTERVIEW // Roman Delugan
Roman Delugan, Founder
and Partner of DMAA, on
architecture and choreography,
the role of the unconscious
in design and the negative
effects of "Pinterest" & co.
on creativity.
Roman Delugan
*1963
Studied architecture at the University of Applied Arts Vienna, masterclass with Professor Wilhelm Holzbauer.
After working in a number of architectural offices he and Elke Delugan-Meissl went freelance in 1993 and established the office of the same name that expanded to become Delugan Meissl Associated Architects (DMAA) in 2004.
Christian Muhr: As we've known each other for quite a while I'm aware of the fact that you actually wanted to become a dancer. Instead of this you became an architect. And yet choreographic elements can frequently be found in your architecture, especially when one examines the internal spaces and how these are organised. But how does an architect "choreograph"? If we think, for example, about the Festival Hall in Erl or the EYE film museum in Amsterdam?
Roman Delugan: Every project that I start has a lot to do with my subjective experiences – with things that I've witnessed and felt. My body plays an important role here, especially – for obvious reasons – in the perception of spaces. It's true that I originally wanted to be a dancer but that I then started with architecture. Having said that, however, I did initiate an optional "dance" course at the University of Applied Arts which has, unfortunately, remained a minority subject.

In those days we were very interested in Merce Cunningham and Jirˇí Kylián, two dancers who represent two fascinating and very different positions. The question of how people use space affects both dance and architecture. It was through my involvement with dance that I noticed how architecture is also capable of affecting people's emotional states. The emotional and the sensual-physical dimension continue to play a fundamental role in our architecture.
CM: As an architect do you design with your body? Is it a design instrument?
RD: Yes and no. I basically process everything that I've experienced. One's own experiences – regardless of whether these are positive or negative – are almost always sources for new ideas.
CM: Physical memories of spaces?
RD: Yes, but also memories which don't necessarily have anything to do with the body. Let's talk about the film museum in Amsterdam: During the design process I recalled a whole range of personal cinematic experiences – visits to classic movie palaces with their special smells and atmospheres but also the dismal sense of being efficiently processed in a multiplex cinema.
CM: So you can also be inspired by negative experiences?
RD: As a rule bad experiences trigger more intense thought processes. Things that work don't remain in the memory in the same way.
Watching a great film on a huge screen in the cinema can be an unbelievably inspiring experience which leaves me largely unaware of everything around me. This makes it even worse when the film comes to an end in a multiplex cinema and one is simply ejected out onto the street. I try to analyse such frustrating experiences in order to be able to react to them with my architecture.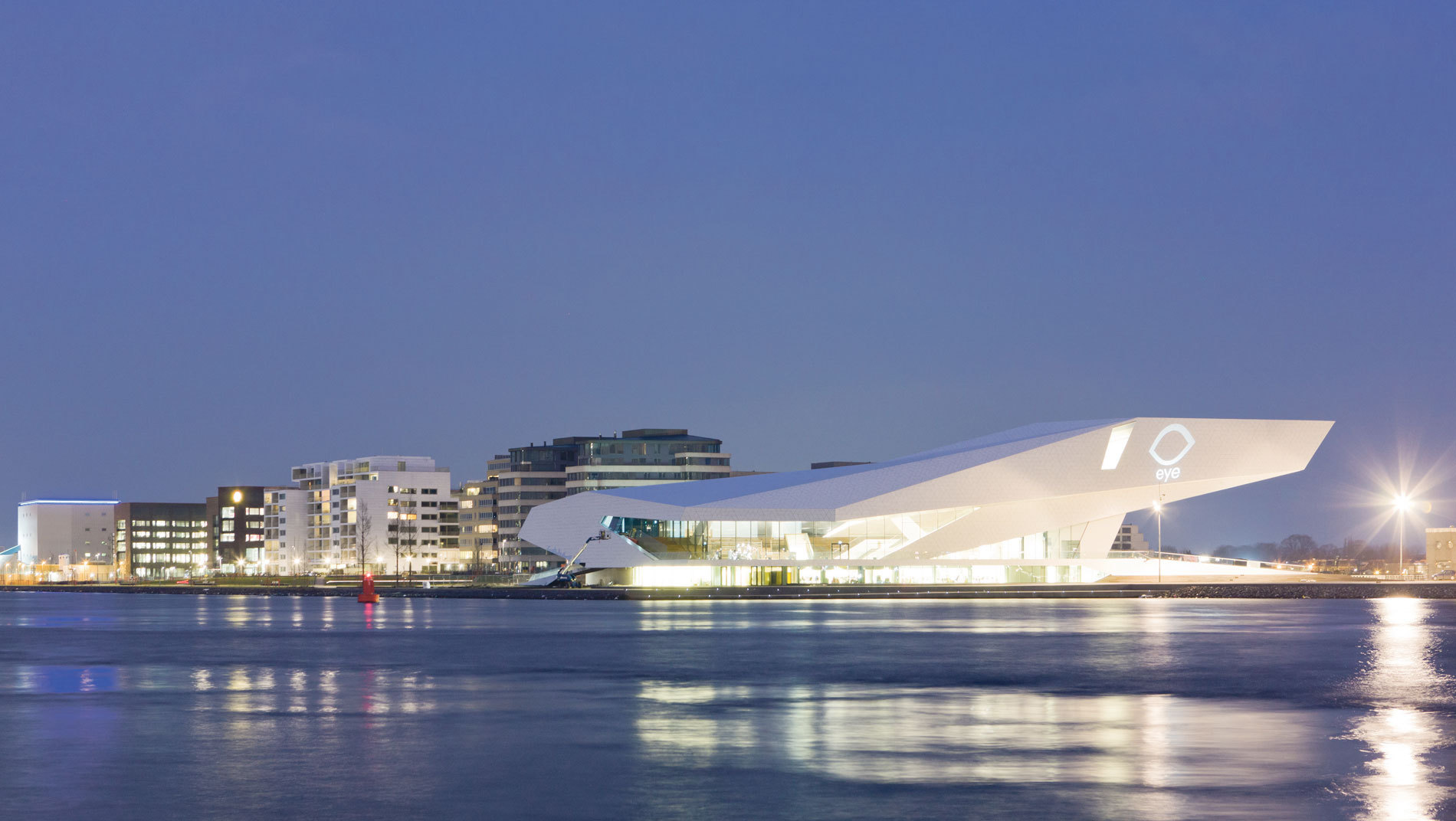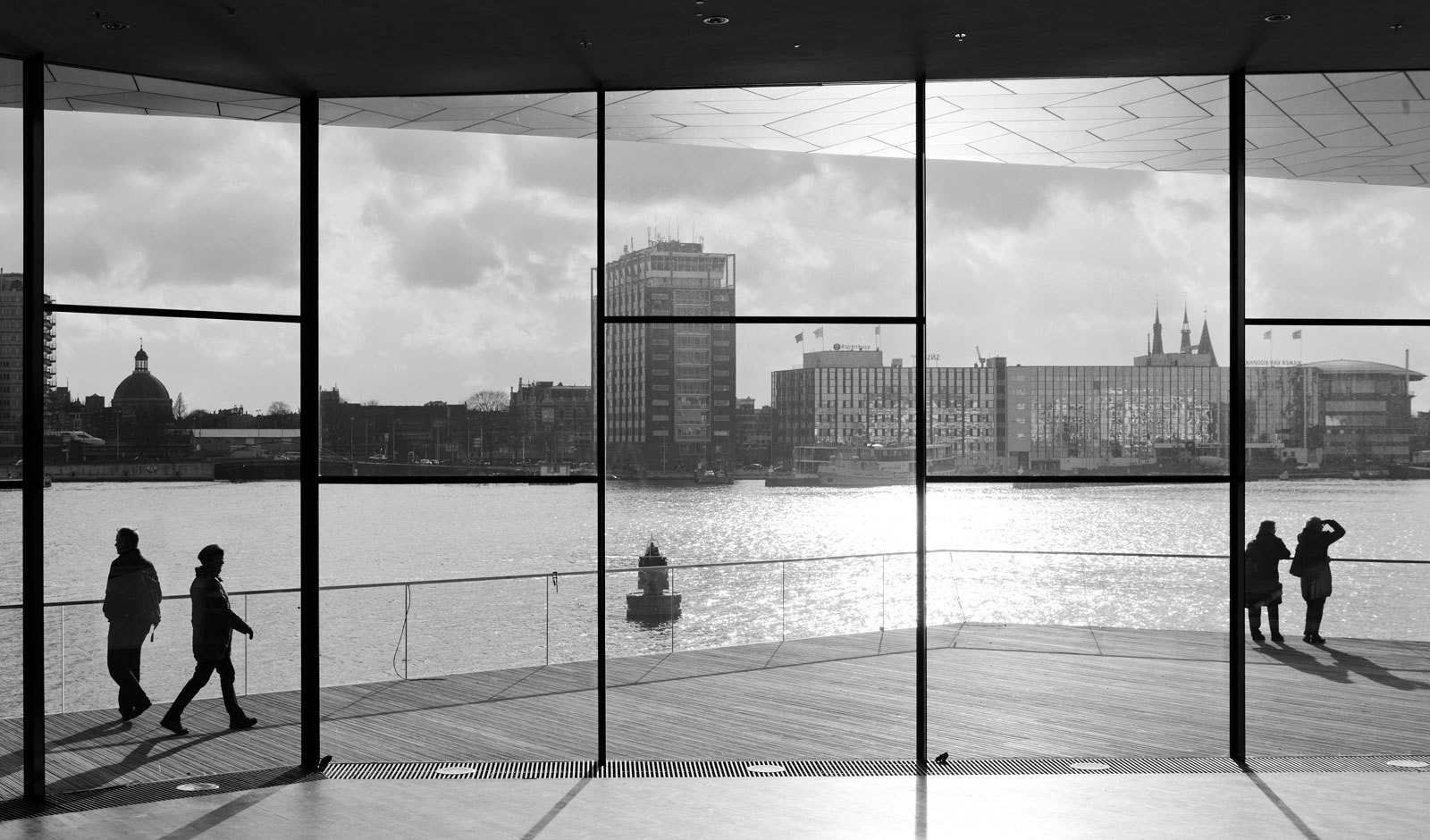 CM: Were there also positive inspirations for the EYE film museum?
RD: Yes, such as the time when Werner Herzog directed the Viennale in Vienna and organised public discussions with actors and directors after the screenings. Those discussions were incredibly exciting and also provided an excellent opportunity to deepen the cinematic experience and round off the evening.
CM: That was an example for you of what cinema – or of what a screening – can still be?
RD: Exactly. The cinema as a place in which real communication can be inspired and the energy of lots of different people suddenly comes to life and coalesces.
CM: You have a very sensual orientation. And at the same time you're also able to conceptualise this tendency. This wealth of experience makes you productive.
RD: Yes. As I said the only things that I find relevant are those that I experience personally. Everything else is too abstract for me. In projects such as the concert hall in Erl or the film museum in Amsterdam I make use of these experiences that are lying dormant in my subconscious, ready to be called upon during the design process. In this phase my subconscious works with particular intensity, busily synthesising my own experiences with my analysis of the existing.
CM: And what happens next?
RD: I'm not alone in the office. We're a large team with a wide range of specialities and approaches. So then we'll work as a team, analysing the "movie palace" typology, perhaps, or the context of the building – two aspects which are always very important to me. The ultimate aim of the design process is to experience that magical moment, to discover that point in the imagination or that basic idea from which everything else springs. At Erl it was the vision that the concert hall itself is conceived like a musical instrument and that the concertgoers are actually inside a resonating body. This idea undoubtedly has something to do with the fact that I played the cello myself and, hence, know how to deal with instruments.
CM: That's perhaps the most characteristic aspect of the way in which you – as an architect – choreograph: As a visitor one watches that which is happening on the stage while, at the same time, becoming a part of it. The result is that the Festival Hall is also a stage on which the visitor plays the main role.
RD: Yes, although there's a clear distinction: In the auditorium the focus is very clearly on the music and the space fades into the background whereas the foyer and the rest of the building offer the visitor and the landscape a stage. The foyer in Erl slopes by three per cent as a result of which the visitor never comes to a complete standstill and is always gently straining to compensate for this slight angle. This sensation is reinforced by the fact that we conceived the building as an extension of the cliff from which it tectonically emerges as a way of simultaneously establishing a connection with the existing Passionsspielhaus. The cliff plays an important role as both a real feature and as a metaphor and we wanted to underline this role by forcing visitors to "scale" the building. At the Porsche Museum we did exactly the opposite, lower­ing the foyer by one-and-a-half metres so that visitors glide smoothly downwards through the entrance.
CM: While we're talking about slopes and gradients: One aspect that often arises in your buildings is the experience of the sublime. Erl, the Porsche Museum and the EYE film museum all have deeply cantilevered building elements which expose the visitor dramatically while also making him aware of his own lack of scale.
RD: This sense of the sublime arises in Erl when you stand on the gallery and gaze out over the landscape. To reach this point you have to climb a staircase with a height of over six metres. Reaching the top, however, you don't find a large glass window but, rather, a narrow gap in the cliff through which you have to squeeze yourself. The creation of such entrances, transition points and thresholds is extremely important to us because such situations trigger sensations that resonate throughout the body.

CM: Picking up on this word "sublime": If we examine the large foyer in the film museum there are a number of places where you can look back on the route that you've taken. So you can take stock again of where you've been.
RD: Certainly. I find Amsterdam very interesting in the light of our conversation about choreography. In the film museum you never find the situation that you find in the Concertgebouw in which the architecture may feel sublime but never transfers this feeling to the visitor. This is why the geometry of the space and the game with angles is so important here. Obtuse angles create flowing spaces while right angles create calming spaces that communicate security and concentration. The roof above the foyer to the so-called "arena" was very deliberately lowered in the direction of the city in order to, on the one hand, present the view of Amsterdam within a defined frame and, on the other hand, to offer the visitor a sense of security after the show. The result is that the space permits a range of sensations. You don't have to step out and expose yourself because you can also retreat. The space offers both sublimeness and protection which means that it can have very different effects on our psyche.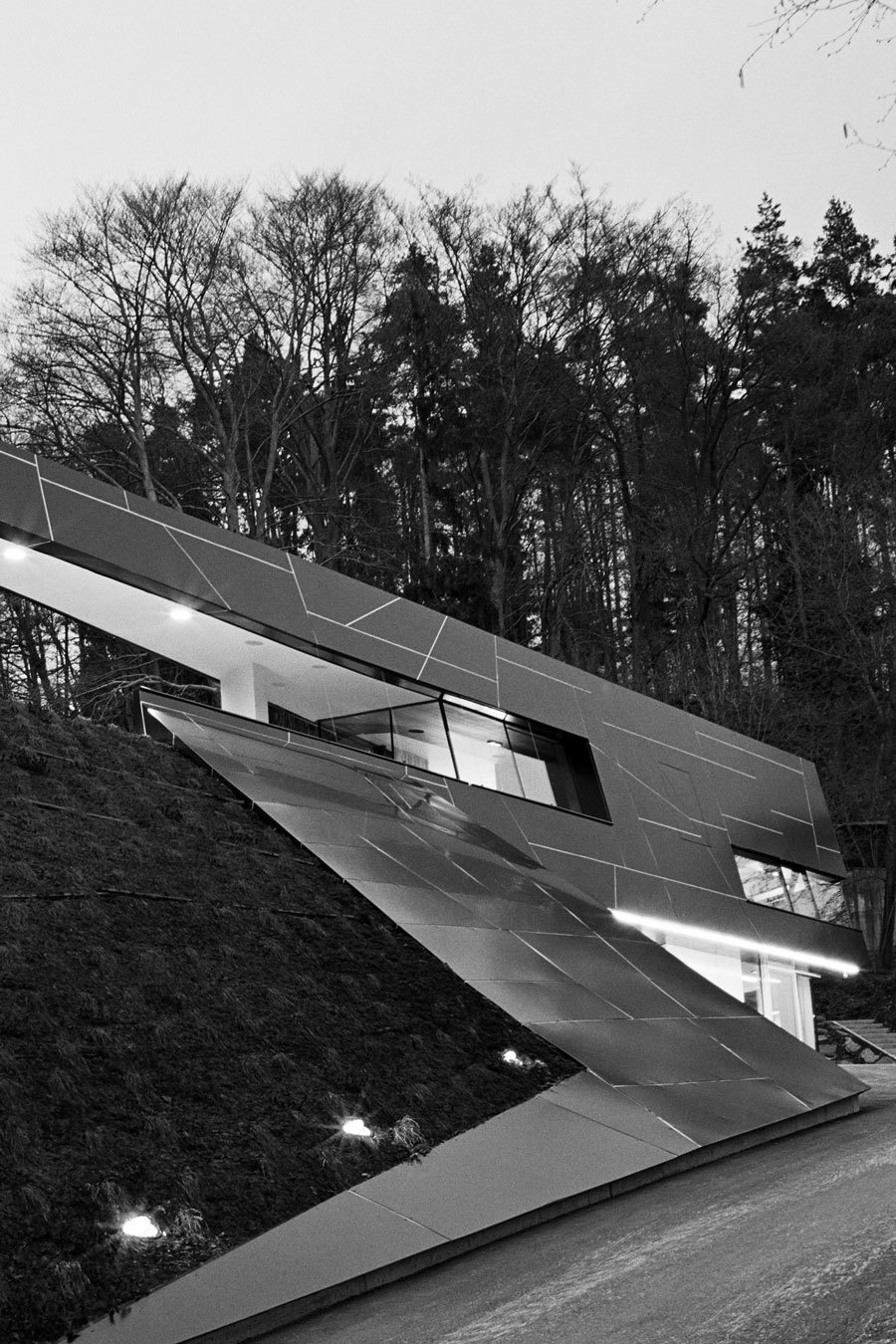 The only things that I find relevant are those that I experience personally. Everything else is too abstract for me.
CM: A similar example of this is Haus RT which is extreme in every way. On the one hand it is so much a part of the landscape that, from the outside, it can hardly be distinguished from its surroundings due to its green roof. At the same time, however, it offers views into the surrounding landscape.
RD: Yes, the house is a good example – as is Haus F in Berlin. In both cases the client and I visited the site together and covered every inch of it in order to discover where the particular qualities of the place were to be found. This is another situation in which experience counts. The task is to recognise existing qualities, to reinforce these as much as possible and to interpret them in spatial form. In the case of Haus RT the house backs on to a forest and a hillside. At night, forests evoke in us a sense of fear and insecurity. This convinced me to severely restrict the views from the rear of the house because my primary instinct was to use it as a form of protection from the forest. Hence, the rear of the house forms a sort of cocoon and the only contact with the outside is offered by a few narrow windows. To the south, on the other hand, the house opens up completely and attempts – in a similar way to the Amsterdam museum – to integrate the landscape into the building. At the same time we raised the living room by forty centimetres in order to both strengthen the sense of the sublime and draw the landscape even more fully into the interior.
CM: You also work with contrasts in social housing and in areas which are not as exclusive as a Festival Hall or a private villa. I'm thinking, for example, of the City Lofts, where the varying heights of the spaces provide the contrast.
RD: That was a calculable experiment but one that I wouldn't want to repeat because it was simply so complicated. And yet it was unbelievably exciting to design a residential complex which plays with varying room heights in such a way: In spaces like the living room and kitchen in which one spends time during the day we have these unusual ceiling heights of 3.40 metres, whereas the spaces where one spends the night are just 2.40 metres high. The result is that one enjoys a range of spatial effects – and, hence, spatial experiences – in the same volume. No apartment is like any other. But we aren't all alike either – we're all individuals.
CM: You didn't mention a single book amongst your sources of inspiration. Why not?

RD: I work differently. I have to engage really intensively with a project – ideally day and night. Sometimes I even dream about it, in which case I might come to the office in the morning and tell a colleague that "it has to look like that." These things can't be controlled or simply retrieved as if they were to be found in a library. Sometimes days might go by before something happens. The fact that my mind works in this particular way means that discussion with other people in the office is also very important. As they don't have the same experiences as I do their approach to a project is very different. This critical analysis of design ideas is essential for the ongoing process.
The creation of entrances, transition points and thresholds is extremely important to us because such situations trigger sensations that resonate throughout the body.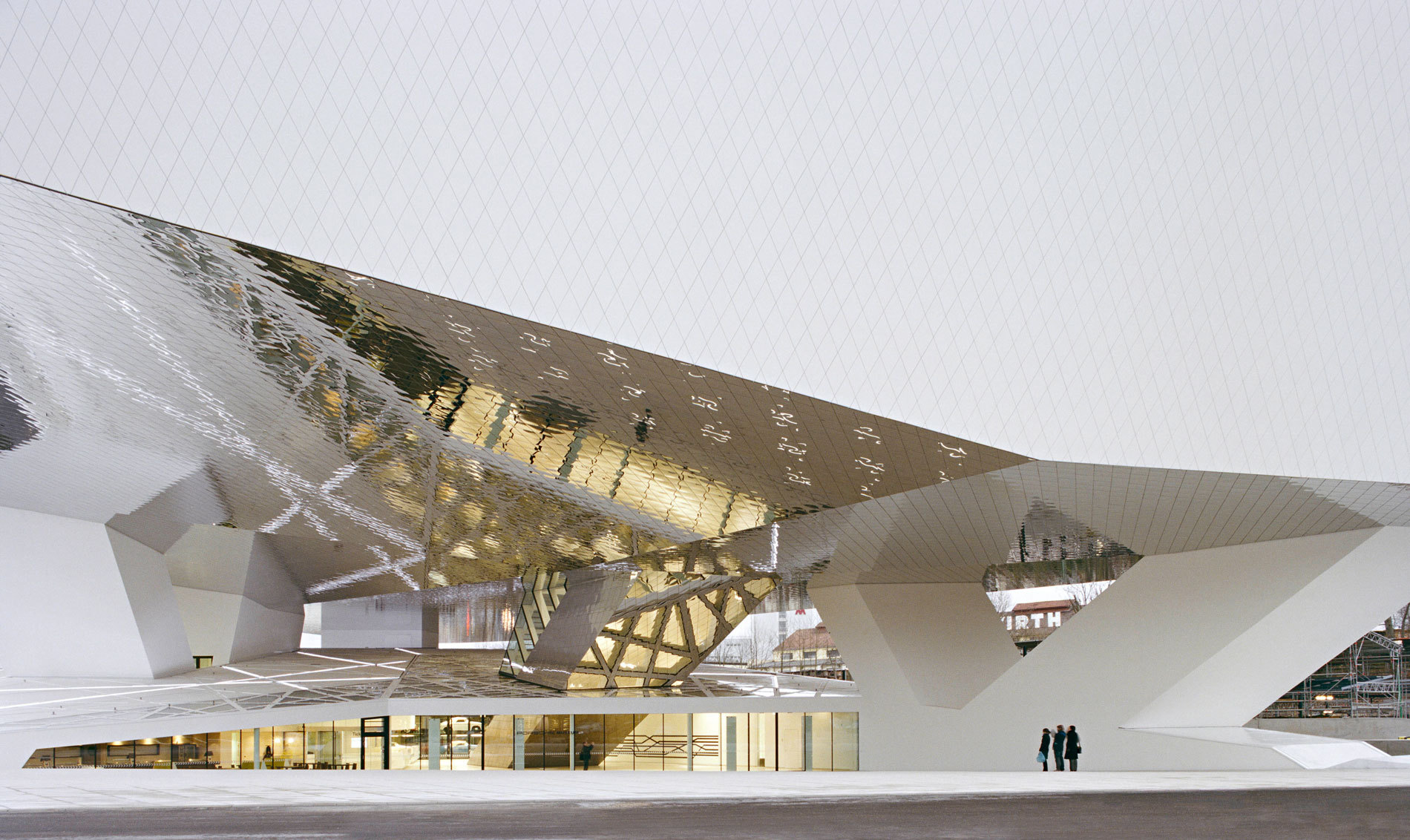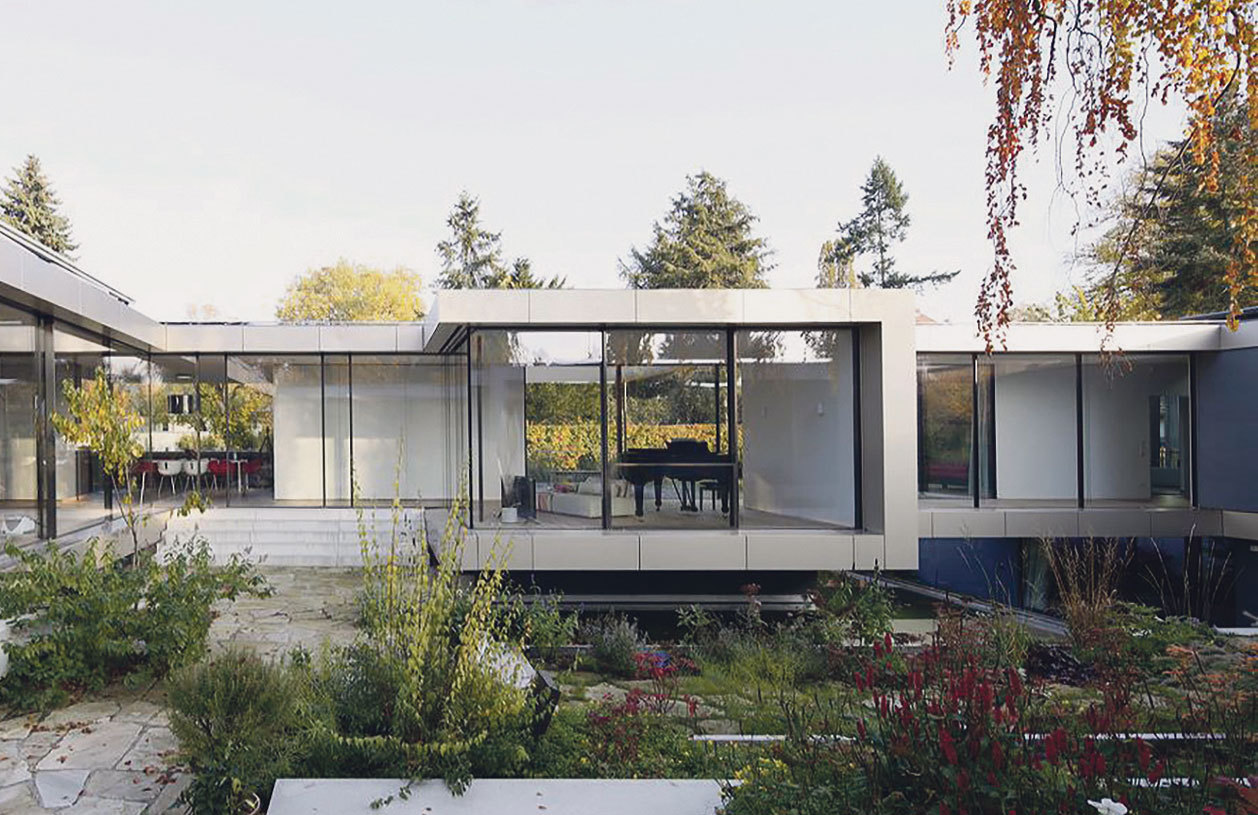 CM: You complement each other very well.
RD: We complement each other perfectly. Each has his own history and approach and I welcome that. I don't resist it.
CM: But you know how you work.
RD: I know how I work. Years ago some­one said that I should take a look at "Pinterest". That's really fascinating. It presents thousands of examples and one is drawn ever deeper into the material. But for me this is bad pornography. Why? Because all these images make an impression on you and they're very difficult to shake off. This is an unbelievable obstacle. It's important for me that my imagination remains free of such influences and that synapses emerge from all that I've experienced myself. Only one's own images have true depth – other people's always remain superficial.
CM: There's a decisive difference between seeing lots of images and only knowing things as images and actually experiencing them.
RD: Exactly. It's now reached the point that colleagues present me with analyses of a particular subject in the form of countless printed images. I'm literally being overwhelmed – a tsunami of images washing over me. It's very difficult to separate me from this flood of images – and that's why I simply try not to expose my-self to it.
CM: At least you know yourself well enough to know what you have to avoid.
RD: Certainly. I'm also somebody who doesn't study architecture magazines. They don't interest me much. That's really not my world.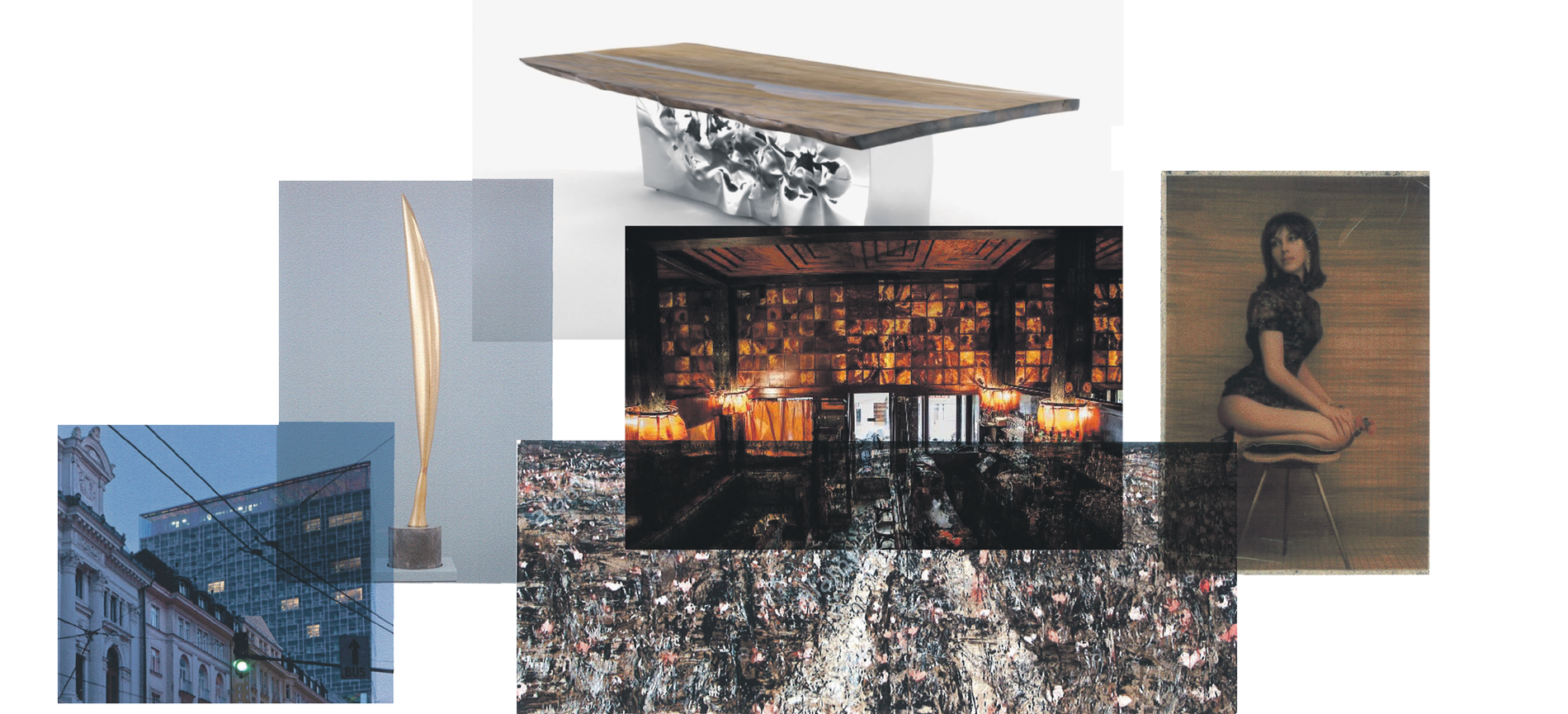 INSPIRATIONS:
10 PERSONAL QUESTIONS
FOR ROMAN DELUGAN
01 What are your favourite websites?
Until recently it was "Pinterest" but this restricted my creativity to such an extent that I don't use it anymore. Besides this I look at "Spiegel Online" and "Amazon" and, occasionally, "Not Just a Label" and "Dezeen". "Booking" is also very important to me because that's where every holiday is booked.
spiegel.de, amazon.com, notjustalabel.com, dezeen.com, booking.com
02 Which books / newspapers / magazines are currently lying on your bedside table?
None.
03 What music have you recently downloaded / which CDs have you recently bought?
I haven't bought CDs for ages. My last downloads were HVOB Julian & der Fux Red Hot Chilli Peppers
04 Which trip / which place particularly impressed you in the past year?
On horseback through Morocco and the Middle Atlas as well as Fes and Marrakech. Crossing Venice at night in a water taxi.
05 Which building / which space has especially impressed you most recently?
Our Walkerhill Spa project in Seoul due to the latest renderings which I saw just today – and Paradise Mountain in Foshan.
06 In which room in your apartment do you prefer to spend time?
In the bedroom where I spend six to eight hours every day. And besides this in the kitchen and, in summer, on the terrace.
07 Which colleague would you love to meet / would you love to have met personally?
John Lautner of course.
08 Which item of furniture did you most recently / would you love to buy
I recently bought folding chairs and a table for the terrace from the series "Sedia Fermob Bistro". Now I would like to find pouffes for the living room and Verner Panton's "C1" chairs for the dining table. The "Riflessi Millenari" table by Helidon Xhixha for Riva 1920 would be a wonderful dining table.
09 Which artists / designers would you collect if money was no object?
Alberto Giacometti, Constantin Brâncusi, Fritz König, Anselm Kiefer, Carlo Mollino, Gio Ponti.
10 Which buildings / which architecture should a foreign visitor to Vienna / Austria definitely see?
In order to gain an overview of the city I would recommend a visit to the top storey of the tower on the Herrengasse or Jean Nouvel's Sofitel Hotel on the Danube Canal, followed by the Semperdepot, the Wotruba church and the Museumsquartier. A drink in the Loos Bar is an absolute must. Outside Vienna I would definitely recommend a visit to a concert in the Festival Hall in Erl.