ZOOMING IN INTERVIEW // Dietmar Feistel
Dietmar Feistel, DMAA Partner, on the blank page and the value of resistance, on living in complex three-dimensionality and collaborating with artists and colleagues.
Dietmar Feistel
*1966
Studied at Vienna University of Technology. Employee and project leader in the office Delugan Meissl since 1998. Partner of DMAA since 2004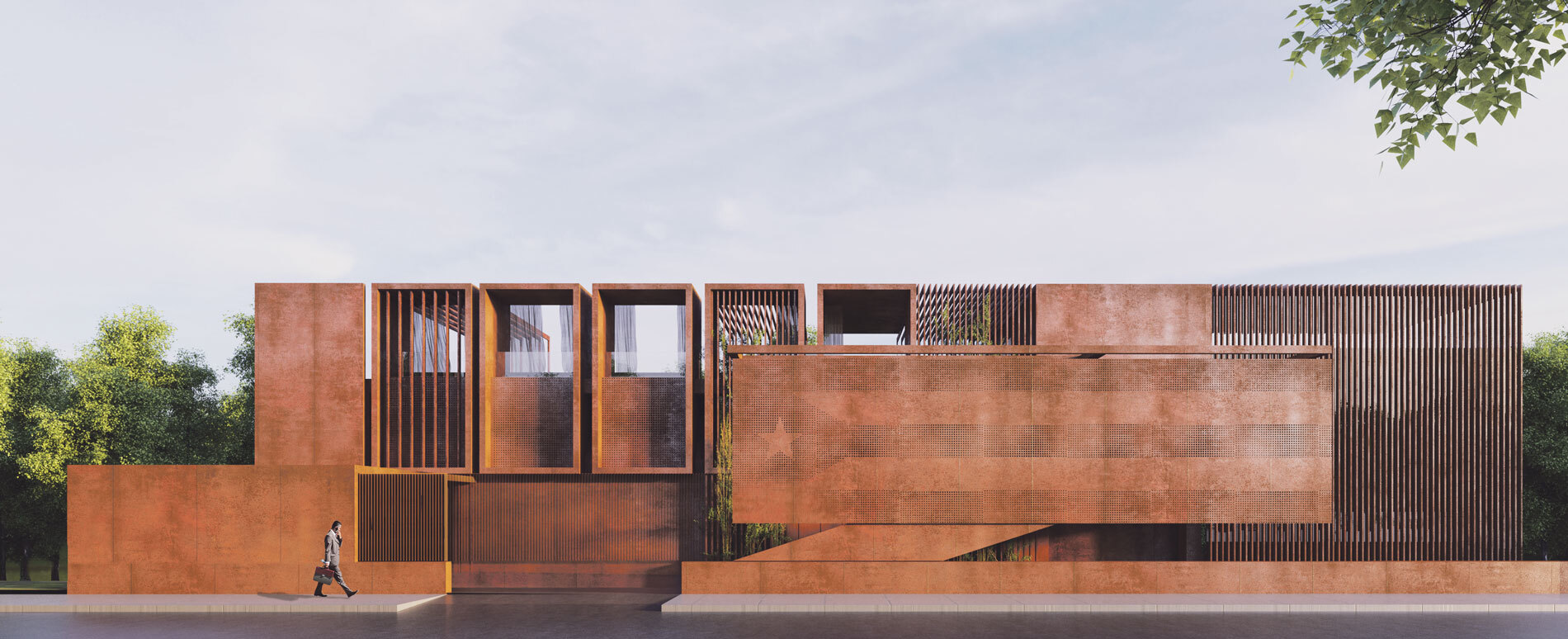 Christian Muhr: How long have you been with DMAA?
Dietmar Feistel: I joined in 1998.
CM: Almost twenty years, then. So what's changed most in the office in recent years and what's stayed the same?
DF: The office has become unbelievably professional. We're now really skilled in using the various media with which we work.
CM: What exactly do you mean by media?
DF: In the past we worked a lot with physical models which we then transformed into two-dimensional plans. To put it somewhat drastically, we always struggled with this two-dimensionality. Our means of playing with space were still very limited. Now it's quite natural for the younger generation of our employees to use a range of softwares as a means of shaping and working with space. This has radically changed our way of working.
We were also pretty dogmatic back then. We used the programme MicroStation and were very proud of the fact that it was only used by a handful of other offices. In those days it was also a question of faith, almost like the question of which music one listened to. None of this is an issue any more. One simply uses this programme for this purpose and that one for another, especially given the fact that the programmes are all compatible. The related changes are huge – a fact that's also confirmed to us by outsiders who constantly ask how we manage to produce so many projects of such high quality so quickly. Hence, we've certainly become much more professional. Of course something gets lost due to all this professionalism. This sense of adventure, of experimentation and even of mild elitism – "it's us against the rest of the world" – is certainly still there but much less tangible.
CM: Perhaps that's also simply a result of twenty years of intense work? "Us against the rest of the world": That's a position that's difficult to maintain when an office has already realised as much as DMAA.
DF: Yes, that's exactly what I mean. I don't want to judge this development. And one certainly can't suggest that a small artistic-progressive group always produces more exciting architecture than a large office that realises huge projects. They simply do different things. We're probably more interesting today for some clients than we were at the beginning but our position has more-or-less stayed the same.
CM: Have these changes in the instruments that you use been reflected in your way of working together? How does the design process work in a team?
DF: I'd say that it works a bit like a game of tennis. Everyone formulates design ideas using his own methods and then serves these to the employees who return the ball back over the net. Roman, for example, is a gifted draughtsman who can visualise his ideas and dreams using his pencil. He then sits together with an employee who transfers his drawings onto the computer. This employee is naturally more than just a "drawing machine". The translation of the first, more abstract formulation of an idea into a three-dimensional project is a creative process that requires a lot of intuition and this is something that not everyone can offer.
CM: What do you most enjoy? What do you most care about?
DF: It's the process itself that I most enjoy. And this naturally requires the right counterpart – an owner or a client who both shares and challenges our visions. When I was a student I always thought that precise ideas were watered down and lost their precision during the construction process. Now I see things completely differently. I see that the idea isn't the objective but, perhaps, a starting point after which other aspects come into play and coalesce to create a whole. Adding ingredients in such a way and watching to see how a project develops, changes and improves is fascinating. If you merely sit in front of a blank piece of paper the project won't be as good as when it faces challenges from the outside and certain aspects have to be rethought. It's these obstacles that pro-vide a stimulus and increase the quality.
CM: So you're basically a form of trouble-shooter? A design enters the implementation phase and you have to accompany this implementation and deal with all the eventualities that arise?
DF: No, not exactly. I accompany projects from design to implementation although, unlike earlier, I no longer do any drawing myself. That simply wouldn't be possible because I'm always dealing with a number of projects at any one time. City Lofts is an extreme example because I was involved in the production of the very first sketches and have now been living in the building for a decade. I have a very personal relationship with the project.
CM: Let's talk about City Lofts. There's a wonderful text about DMAA in which Kari Jormakka quotes Adolf Loos and his suggestion that, in the future, we'll all have to learn to play three-dimensional chess. This notion that architects should fully exploit the third dimension is a form of guiding principle of City Lofts. The project is one of the most extreme examples of this – while also being subject to the straitjacket of social housing.

DF: Not only for our office but, I would suggest, globally. Few social housing projects have such extreme spatial complexity. This certainly isn't the general answer to the general question of good residential building. That was clear from the very start. This is a special answer to a special question and I think that it's very important that we also address such extreme questions in the area of housing.

CM: What was extreme about it?

DF: At that time we were deeply involved – perhaps unconsciously – in the issue of individualisation in large-scale housing projects. Indeed, we had three such projects more or less simultaneously: City Lofts (or the Tetris building), Paltramplatz, where we piled individual floor plans on top of each other, and Steigenteschgasse, where we wrapped a building with standard floor plans in a highly individualised façade. We were engaged in a series of trials and experiments – from three-dimensionally interlocking apartments to an individualised façade – which sought to introduce a level of individualisation to social housing. City Lofts was certainly the most extreme of the three projects in terms of individuality. The building has 47 apartments, each of which is completely different from all the others.
The changes are huge, a fact that's also confirmed to us by outsiders who constantly ask how we manage to produce so many projects of such high quality so quickly.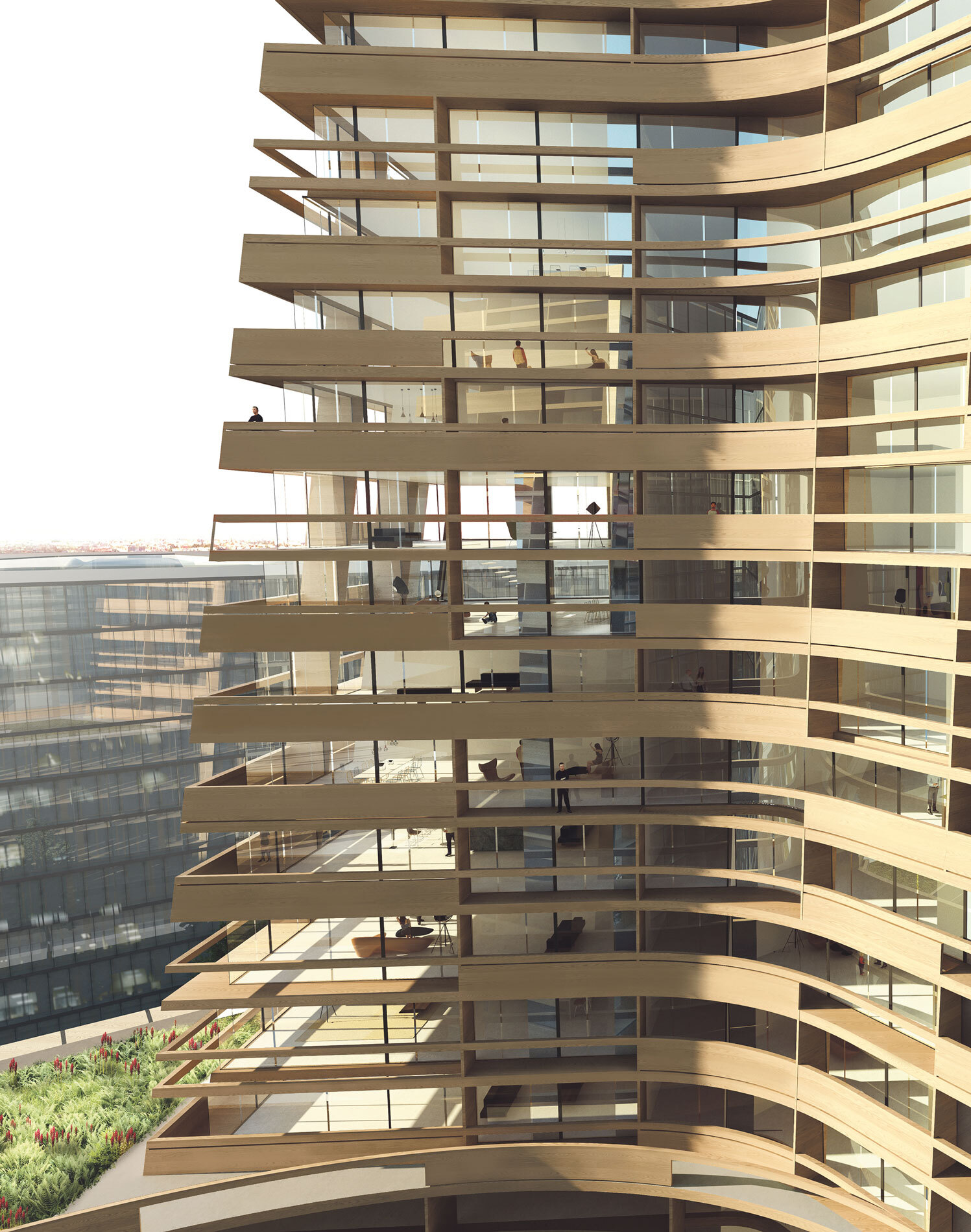 CM: You had the difficult task of choosing one of those apartments for yourself.
DF: Many people suspect that I 'tailor-made' an apartment for myself – but that wasn't the case at all. The building was already under construction when my wife and I decided to move there. It wasn't a district that I was originally interested in. I'm more of a city person. But then we identified our favourite apartment very quickly – and it was still available.
CM: What was the criterion?
DF: All the apartments are six metres wide and have a floor-to-ceiling height of 3.40 metres. The façade is fully glazed. My apartment faces south and I can see the Schneeberg, the Bucklige Welt and even as far as Lake Neusiedl because I'm on the top floor. The apartment is a dream. I see every sunrise and every sunset.
CM: Is there a terrace?
DF: I have a loggia and a terrace.
CM: You can even step out of the apartment.
DF: Yes, that's fantastic. It's the opportunity of having both, the intimacy and security of the interior and this extroverted external space, that's the best of all.
CM: So the apartment also has an introverted area?
DF: Of course, that's the concept behind the building. There are these south-facing rooms with huge windows and, in contrast, these lower rooms to the north.
This dichotomy gener­ates an entire spectrum of wonderful spatial sit­­uations and impressions. Rather than being laid out on a flat surface the spaces nestle together. And while it might be an exaggeration to say that Adolf Loos inspired the building it certainly carries his genes. We live on four levels.
CM: The entire space is a continuum.
DF: In fact it's a spiral. And the apartment also has a separate satellite. We were fortunate that ­an extra room was available on the other side of the corridor opposite our front door. My wife used this as a study and, later, as a guest room and now my son lives there. He's 17 and effectively has his own small apartment. That's also a really good thing. Alongside the continuum that generates this intense sense of living together there's also this opportunity to slip out and have a little more privacy.
CM: There's now a series of projects on which you're cooperating with other architects. That hardly ever happened before.
DF: That's right. In the very early days when the office was still young we were against the idea of working together with other people. We suspected that this would interfere with our extremely intense design process. This was already so exhausting for us that we couldn't imagine the idea of cooperation. But then this happened anyway and, when it did, the key thing for us was to agree very clearly at the start how this cooperation should work: Who does what, what do we work on together and where do we remain separate? The Polgarstraße housing project, where we won the competition together with the office Ganahl Ifsits, was an example of successful cooperation because the chemistry also worked. We developed the urban planning concept together extremely quickly. Thereafter it was decided that Ganahl Ifsits should take over the pavilions and we would design the longitudinal building. We continued to regularly meet and coordinate the projects but each office worked independently. It's really good when one continues to meet from time to time.

CM: And the same applies to your cooperation with artists?

DF: Exactly.

CM: Is there a precise division of responsibilities or a concrete brief that defines the area of intervention of the artists?

DF: Actually, yes. We address the subject of art from the very beginning. But the process is always somewhat different and depends upon the artist. Some work with a high level of autonomy and simply do their own thing. Personally I find this admirable and it's an approach that has brought excellent results. Then there are artists who very deliberately want to work closely together with us – as exemplified by Manfred Erjautz, who collaborated with us on the Sonnwendviertel. The cooperation was wonderful but also very intense. It even led to a sort of vague friendship. But even here there were clear rules that defined who did what. I couldn't say which form of cooperation is better.

CM: In recent years you've been increasingly invited to work with existing buildings. The keyword is "refurbishment". The city is growing but can't only do so on the edges and we also have to remodel the existing. Such work is relatively new for you.

DF: The subject of "refurbishment" is of course not new in itself but has always preoccupied the architectural world. We, however, were hardly confronted by the issue until recently. As I said earlier, a blank sheet of paper puts up too little resistance for my taste. I find it far more interesting when certain structures are already present. I love solving complex problems. "Refurbishment" projects make me feel as if I've been given an excellent opportunity to create solutions on the basis of the existing that would be impossible if I was building from scratch. There's a strong focus today on the word "optimisation", which means modest plans, low ceilings and doing nothing irrational.
But countless spaces and buildings are defined by irrationality, exuberance or luxury. Working with existing buildings offers such rich opportunities because, although these buildings may have certain weaknesses, they also have special qualities. My appeal to developers and investors is that they shouldn't seek to remove the rough edges of such buildings because it's precisely these differences that lend them their quality. The market might not be a huge one but there are definitely people who are interested in such opportunities, who are on the lookout not for a perfectly optimised building but for an individual one.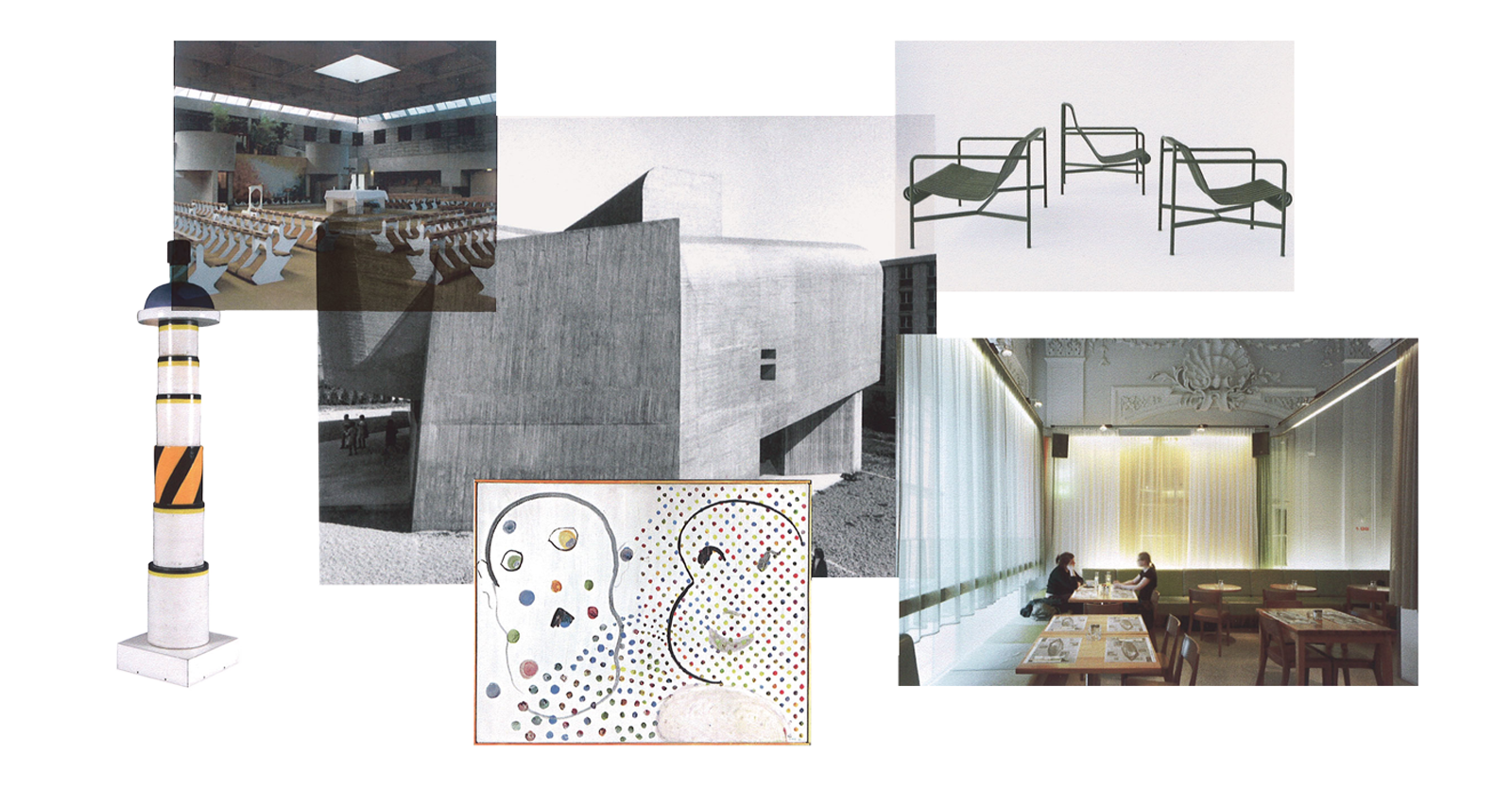 INSPIRATIONS:
10 PERSONAL QUESTIONS
FOR DIETMAR FEISTEL
01 What are your favourite websites?
"Dezeen", "Bikeexif", "Spex", "Warp", "Bergfex".
dezeen.com, bikeexif.com, spex.de, warp.net,
bergfex.at
02 Which books / newspapers / magazines are currently lying on your bedside table?For ages: Robert Musil's "The man without qualities". Currently: an Iggy Pop biography. Permanently: "brand eins", "Wiener
Zeitung", "Falter"

03 What music have you recently downloaded / which CDs have you recently bought?
Sugaray Rayford "The World That We Live In", Jim James "Eternally Even", Jeb Loy Nichols "Long Time Traveller", Flotation Toy Warning "The Machine That Made Us", Thurston Moore "Rock N Roll Consciousness", Thundercat "Drunk", Georg Danzer "Ollas Leiwaund"
04 Which trip / which place particularly impressed you in the past year?
San Sebastian with Elke, Roman and Martin, last autumn. Venice, over and over again. Our plot of land in Slovenia, always.
05 Which building / which space has especially impressed you most recently?
The broad seascape while sailing. The dense streetscape of New York. Josef Lackner's Konzilsgedächtniskirche Lainz in Vienna.

06 In which room in your apartment do you prefer to spend time?
In motion.
07 Which colleague would you love to meet / would you love to have met personally?
Claude Parent, Carlo Mollino, Louis Kahn.
08 Which item of furniture did you most recently / would you love to buy
I recently bought the "Pallisade Lounge Chair Low" by Ronan & Erwan Bouroullec. I would love to be able to afford some furniture by
Gio Ponti.
09 Which artists / designers would you collect if money was no object?
Sigmar Polke, Ettore Sottsass, Stephan Balkenhol.
10 Which buildings / which architecture should a foreign visitor to Vienna / Austria definitely see?
The restaurants, bars and cafés in Vienna designed by Adolf Loos, Hermann Czech and Eichinger oder Knechtl.